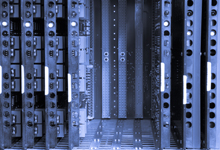 Telecom Engineering Review
Many telecom cost recovery companies focus solely on the administrative telecom audit as their primary service to recoup overpayments. Greenback goes far beyond just the paper costs savings by digging deep into the engineering behind the phone and data network, and can discover and recommend multiple cost savings opportunities.
The primary methodology for accomplishing significant savings in the engineering telecom audit is a careful review of all telephone and data line needs and uses. The review will uncover underutilized or inefficiently deployed resources in your telecom connectivity environment. Greenback's focus is to validate the proper size, usage, and network design of services for the enterprise.
It is not our goal to just renegotiate to reduce expenses. Our goal is to maximize the network design to increase efficiencies and reduce long-term costs. Greenback brings a rich portfolio of technical success to the table when working to improve your telecom network infrastructure. We have the knowledge and expertise to assess your telecom strategies and related risks, and to target solutions that match your unique needs. Because our overall company focus is cost management, we are keenly aware of providing services and recommendations that save you money while improving performance.
©2015 Greenback Cost Recovery, LLC. All Rights Reserved.